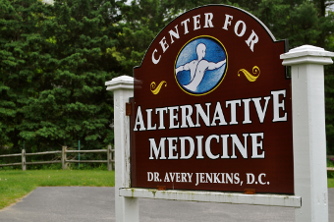 Six years ago, I took a pretty big gamble. At what turned out to be near the peak of the real estate market, I bought a building that had, since the 1960s, been a veterinary office. I spent an ungodly amount of money to convert it from an animal doctor's office to a people doctor's office, and closed my otherwise thriving practice in Kent to focus all of my efforts on an entirely new beginning in Litchfield.
While I enjoyed my practice in Kent, I came to feel that it was too limited. I opened that practice directly from my internship and graduation, and took my first few years in practice to start adding onto my  base knowledge. My first milestone was achieving board certification in clinical nutrition, followed a few years later by passing another specialty board, and becoming a Fellow of the International Academy of Medical Acupuncture.
My goal had always been to become a holistic GP, the physician that people could turn to for drug-free treatment for all types of disorders, not simply back pain, neck pain, or headaches. And in Kent, I was able to acquire and build on those skills. But I realized that to become the type of physician that I wanted to become, I needed a location that needed me.
So when the vet's office in Litchfield went on the market, I jumped at the opportunity. And though it was a massive financial gamble, by that point in time, I had become mildly inured to that sort of thing. After all, I had left a journalistic career that had put me among the top 5% of freelance writers in the country to go back to chiropractic college and start from scratch.
Still, to be honest, I was a little nervy. This time was a bit different. Now I had a family, two kids, and a house with a mortgage; and here I was adding a second mortgage to the list, while rebooting my practice. You would have to be made of stone not to get a little jittery.
To keep disruption to a minimum, I planned to move my office over the course of a weekend, and start seeing patients just a day or two thereafter; and this was all to occur almost minutes after my general contractor pulled his last employee from the building.
The trouble was, I lacked a Certificate of Occupancy.
I scheduled the inspection for two days prior to re-opening. The inspector, a very nice man, was also thorough -- and found one electrical problem which prohibited him from issuing the certificate.
In a panic, I called up my contractor. His receptionist, no doubt used to such calls, assured me that all would be fixed in record time. And to his credit, it was. The electrician was out the next morning, and corrected the out-of-code electrical wiring. I invited the building inspector back for the following morning.
He came. He approved. He issued my Certificate of Occupancy.
And 45 minutes later, on April 6, 2007, my first Litchfield patient walked through the door.
Within months, I realized that I had made the right decision. Growing mostly by word of mouth, patients started coming to see me, not only for what chiropractic adjusting could do for them, but also for nutritional and acupuncture treatments for a variety of disorders. Within the first year, many  of my Kent patients who had stayed behind returned to the Litchfield practice (rightfully grumbling about the longer commute, it might be said).
Six years later, I have co-created, with the help of my patients, the practice of my dreams. I have patients coming to see me, not just from Litchfield county, but from Massachusetts and Long Island. Each new patient is a welcome guest and a new puzzle for us to solve together. Each day, my skills are challenged, my knowledge stretched, my spirit expanded.
And I would be utterly remiss if I didn't say thanks to Teresa Tuz, my oft-suffering office manager. Teresa had run the Kent office, and (probably against her better judgement), decided to continue the fun with me in Litchfield. She has managed the office through blizzards, floods, blackouts, faced head-on the interminable idiocy of health insurance billing, and along the way has become part of the spirit of the office. I mean, let's face it: When was the last time you heard patient and staff erupt in shared laughter at a doctor's office? But that happens many times a day at Teresa's desk.
The office has also been enriched by my tenants: Dave Pavlick, an extraordinary social worker and expert in the field of neurofeedback, and Christine DC Decarolis, one of the most dedicated massage therapists I have known. She is not only dedicated to her craft, but also to her community, to which she contributes in numerous ways.
Last night, after finishing my chart notes for the day, I locked the door, walked away from the office, and turned to look back. Six years ago, there had been nothing but an empty building, a vision, and a willingness to risk almost everything on that vision. Today, that building has become a place of hope and healing for many. My deepest thanks to everyone who has helped make it so.